Item request has been placed!
×
Item request cannot be made.
×

Processing Request
Any of the following games can be borrowed from the library.
Loans for games are for three days.  All game policies can be found on our "services and policies" page. 
Tabletop and Board Games
Answer Buzzers/Lights and Sounds Buzzers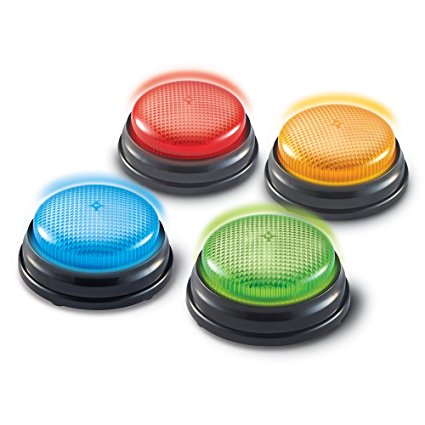 Need a way for players to "buzz in" for a competitive quiz or trivia game?  Each set of 4 buzzers has a unique sounds.
Apples to Apples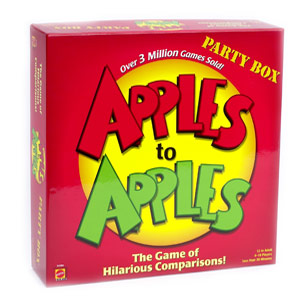 A game of hilarious comparisons. It's as easy as comparing apples to apples just open the box, deal the cards, and you're ready to play. Select the card from your hand that you think is best described by a card played by the judge.
Bosworth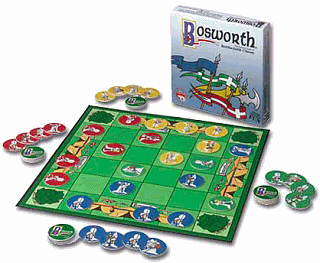 The award winning board game that takes the premise of chess and turns it into a quick and exciting strategy game for 2, 3 or 4 players. Bosworth adds the speed, variety and unpredictability of battle to the game of chess.
Chess Set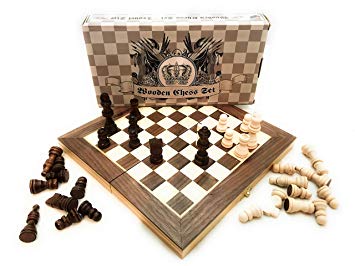 Play anywhere with this high-quality wooden chess pieces and folding board.  This unique travel set comes with felt-lined interior storage and elastic piece holders to keep your chessmen in excellent condition.  Our 10 inch  set is lightweight and easy to carry without the hassle.
Choose One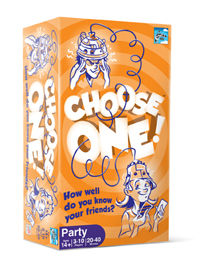 It's the moment of truth. Will your friend choose Outer Space, or The Bottom of the Sea? Do they prefer the Window or the Aisle? Are they all about the Party, or the After-Party? Successfully predict how your friends will answer weighty questions like these in Choose One! and you'll advance your token to the finish line!
D&D Dungeon Master's Guide (5th Edition)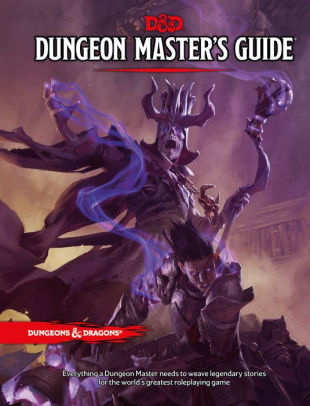 All you need to run a Dungeons & Dragons game is your imagination, some dice, and this book. The Dungeon Master's Guide teaches you how to how to run D&D adventures for your players— how to invent monsters for them to fight, mysteries for them to solve, and fantasy worlds for them to explore.
D&D Icons of the Realms Starter Set -- Miniatures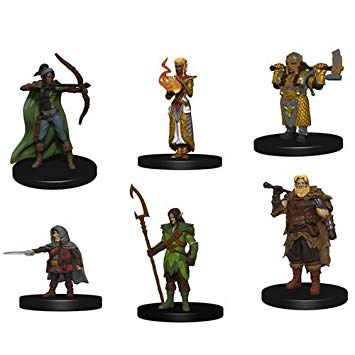 The perfect supplement for your tabletop RPG, Icons of the Realm contains 6 miniatures, featuring iconic character classes.  They're pre-painted and ready for play
D&D Player's Handbook (5th Edition)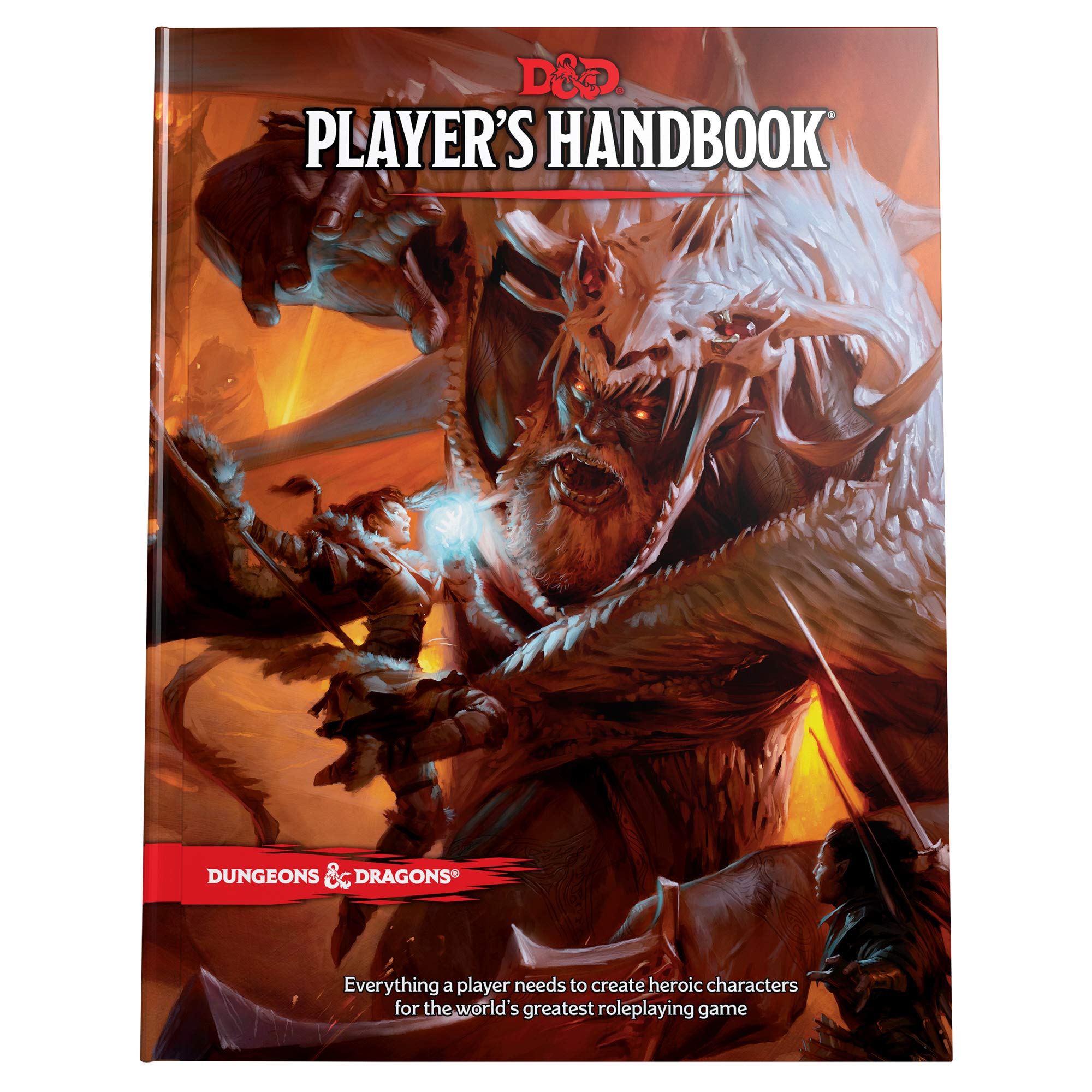 The Player's Handbook is the essential reference for every Dungeons & Dragons roleplayer. It contains rules for character creation and advancement, backgrounds and skills, exploration and combat, equipment, spells, and much more. Use this book to create characters from among the most iconic D&D races and classes.
The Dicey Dungeon Playmat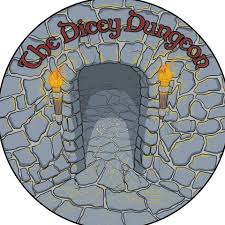 Want to run a Dungeons & Dragons or similar RPG but don't have a playmat?  This pack includes 2 gaming mats, allowing you to have an extended setup for size, or play multiple games at once. Each pack also includes 4 colored dry erase markers and an eraser. There's also a Bag of Holding to keep things organized between adventures.
Dungeon Master Essentials: Roleplaying Starter Kit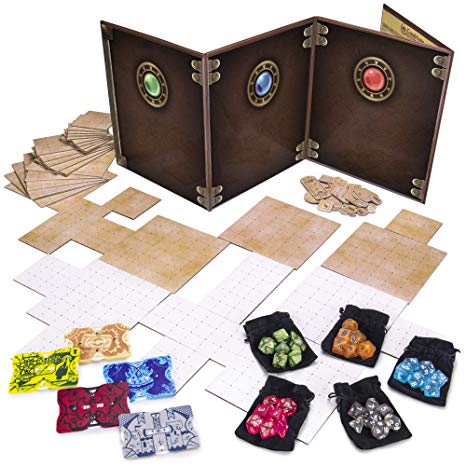 This set includes everything you need to kickstart your next adventure!  Keep your players in the dark about your plans for them with a customizable game master screen, complete handy reference tables.  Build out diabolical dungeons with a set of 44 reversible, dry or wet erase dungeon tiles, plus 48 object tokens   Streamline combat with handy set of 5 colorful HP trackers.  Roll critical hits with 35 polyhedral dice in 5 unique color sets.
Fantasy Creatures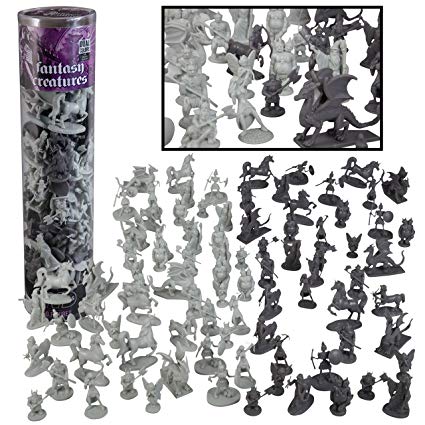 Is your party of adventurers looking for an encounter? This action figure set includes 90 different monsters and fantastic creatures, including dragons, centaurs, orcs, skeletons, and more!  Place them on your playmat and have them lie in wait for your friends' heroes.
Family Feud Strikeout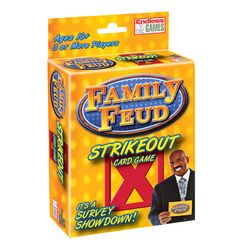 A fast paced card game based on the Family Feud!  Packed with survey questions from the classic TV game show, a variety of subjects will keep everyone entertained! Try to get the top answers before you get a Strike and play volleys to the opposing team. They get a Strike? You gain control. Battle back and forth until somebody completes the card or Strikes Out trying.
Fluxx
(Eco Fluxx or Pirate Fluxx)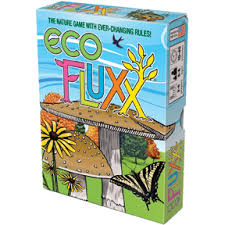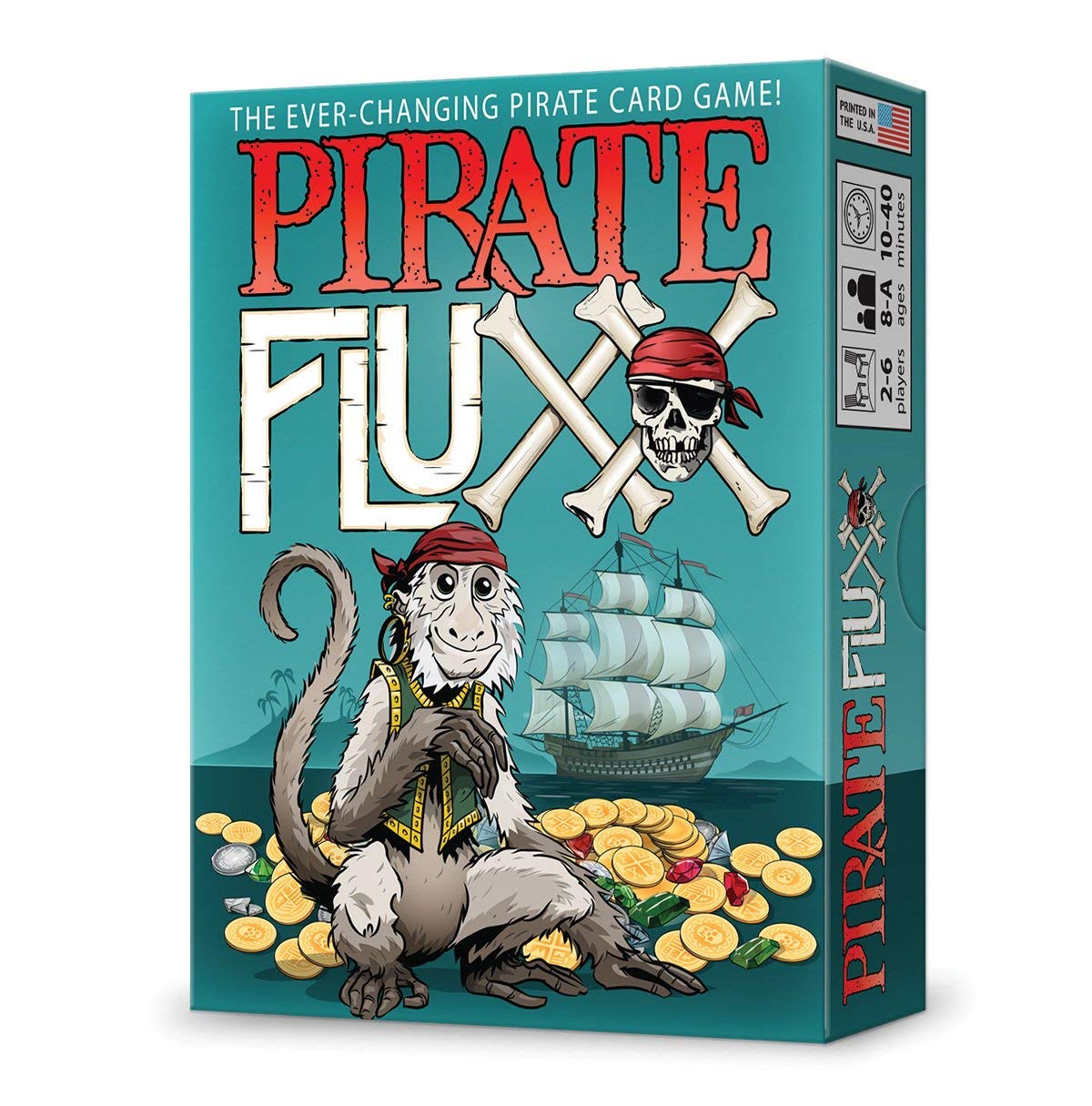 The latest and greatest version of the card game with ever changing rules! Easier than ever with just the four classic card types that fans the world over have come to know and love. It starts out simple: draw one card and play one card – but New Rule cards quickly make things chaotic.
Forbidden Island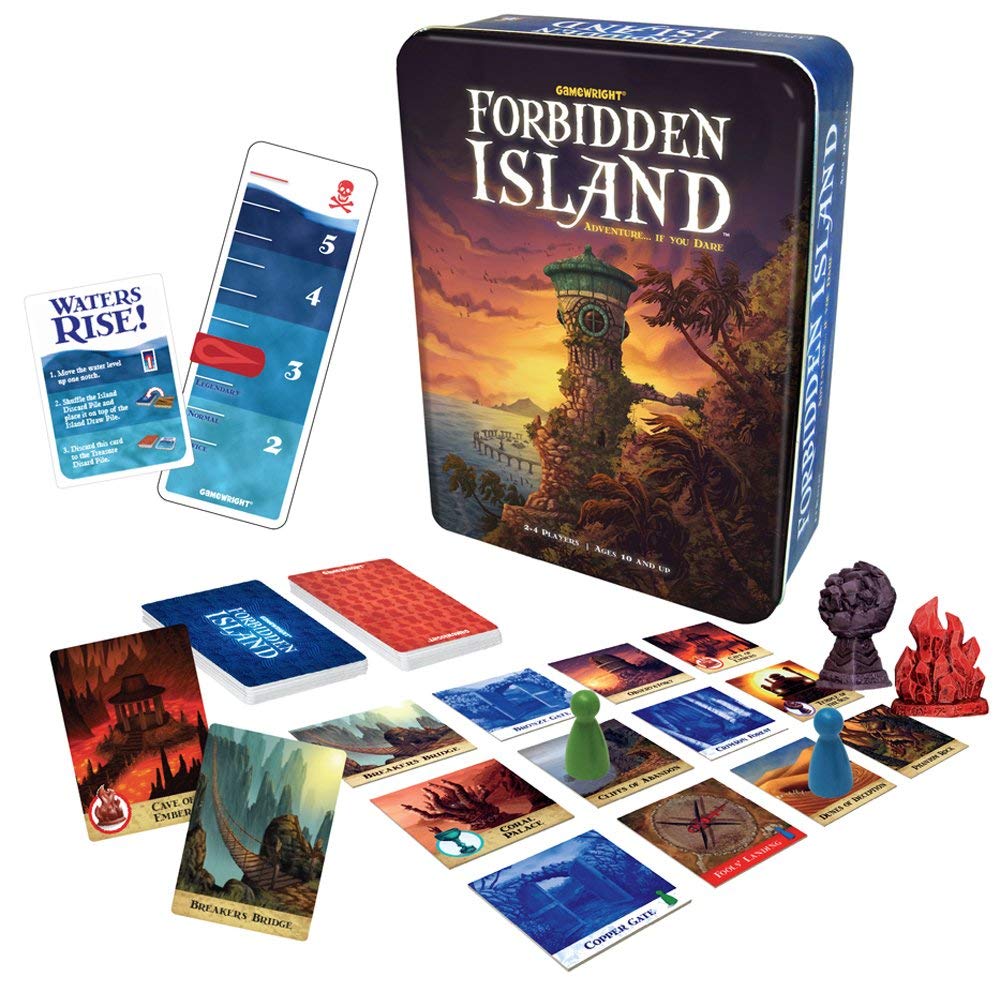 A cooperative board game developed by Matt Leacock and published by Gamewright Games in 2010. Two to four players take the roles of different adventurers, moving around a mysterious island, looking for hidden treasures as the island sinks around them.
Harry Potter: Hogwarts Battle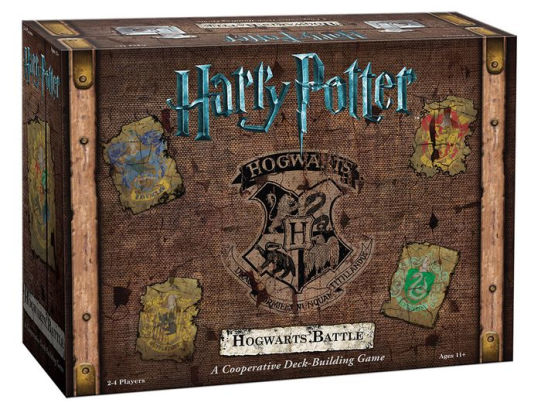 Seven successive battles offer increasing difficulty.  As you advance through games 1-7, you reveal progressively more challenging adventures and unlock new secrets on your journey to save Hogwarts from He-Who-Must-Not-Be Named!   Play as your favorite character to defend the wizarding world from evil forces: Harry Potter™, Hermione Granger™, Ron Weasley™ or Neville Longbottom.™
Hanabi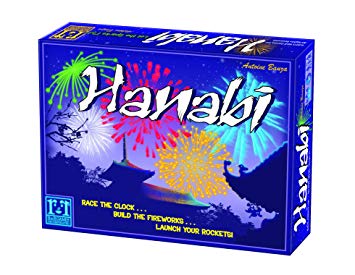 A cooperative card game published in 2010 in which players, aware of other players' cards but not their own, attempt to play a series of cards in a specific order to set off a simulated fireworks show.
Jenga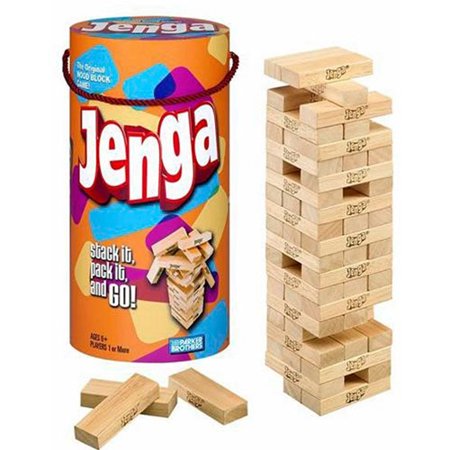 Jenga is a game of physical skill created by Leslie Scott, and currently marketed by Hasbro. Players take turns removing one block at a time from a tower constructed of 54 blocks. Each block removed is then placed on top of the tower, creating a progressively taller and more unstable structure.
Jeopardy! Card Game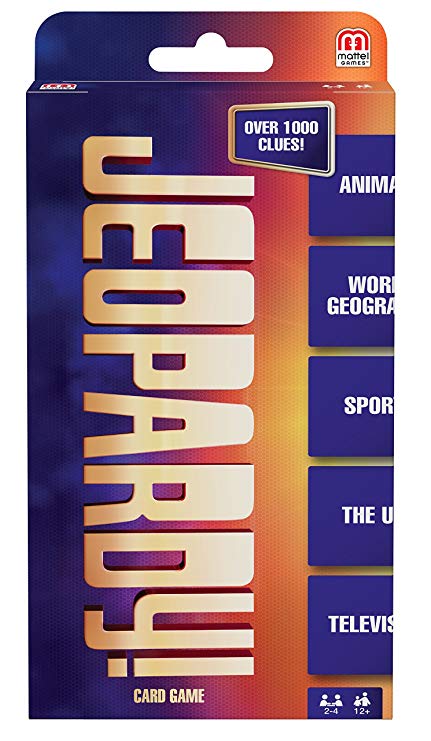 No Alex? No Problem! Now you can play the home version of Jeopardy, America's favorite television quiz show! Have a blast challenging your friends, family, and yourself with question that range from a variety of categories.
Jim Henson's Labrinth: The Board Game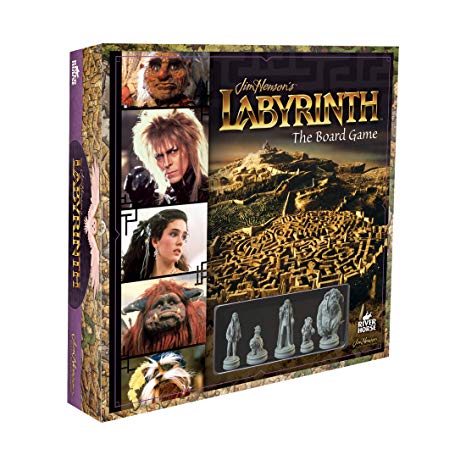 A beautiful exploration of the movie for 1-5 players in which Sarah, Ludo, Sir Didymus and Hoggle must adventure through the labyrinth and make their way to the goblin city to save Toby from Jareth, the goblin king!
The Lord of the Rings: The Card Game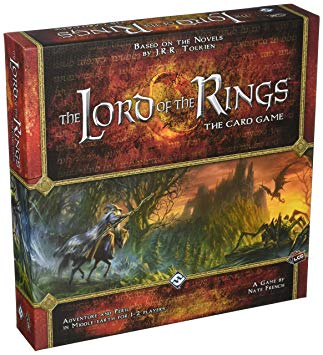 A cooperative card game that puts 1-2 players (or up to four with two Core Sets!) in control of the most powerful characters and artifacts of Middle-earth.
The Love Letter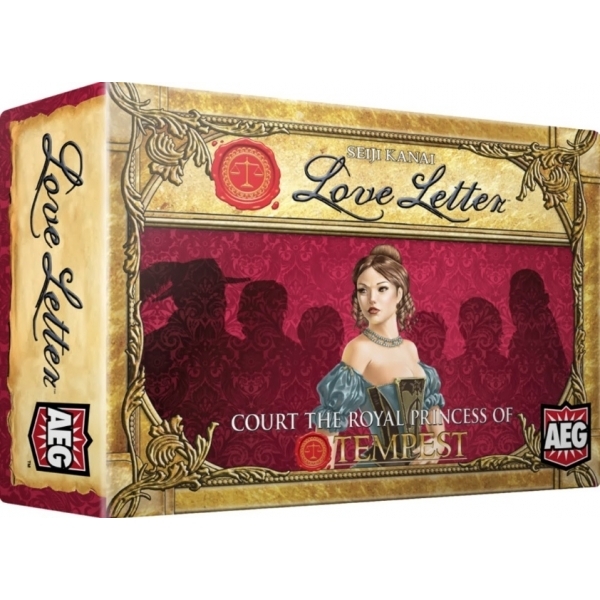 A game of risk, deduction, and luck for 2 to 4 players. Your goal is to get your love letter into princess Annette's hands while deflecting the letters from competing suitors.
Master's Tome Customizable GM Screen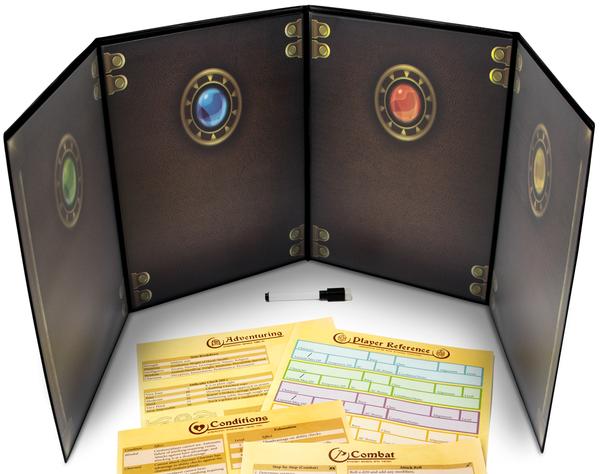 Take greater control of your campaigns with this fully customizable 8 pocket GM screen.  This screen is sized for letter paper! Just print your notes and maps, or worldbuilding lore and art, and slide them in. Place campaign notes into 8 convenient pockets.  You can also use dry erase markers to take notes directly on the vinyl,  Simply wipe it off when your session's done. (We recommend erasing after every session.)  Stands 11.5" tall and over 3 feet wide, then folds down to just 1/2" thick. Premium size for home or travel play -- adventurers welcome!
Rocketville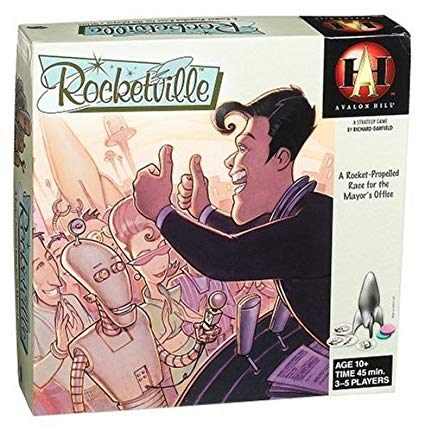 In the retro-future Hometown USA known as Rocketville, there's no greater honor or privilege than holding the office of Mayor- the goal of this fast-paced game of luck and strategy. Traveling from district to district via rocket, players campaign for votes- making promises, garnering endorsements, and recruiting robotic assistance- in a mad dash to win the popular vote and the game.
Scrappers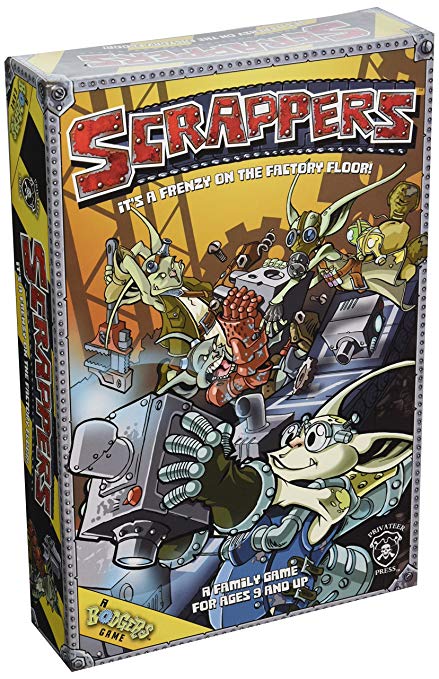 A board game for 2-4 players. Each player takes control of a single goblin mechanic and uses a hand of action cards to race around the factory conveyor belt in order to grab the parts they need to finish their contraption first.
Secret Santa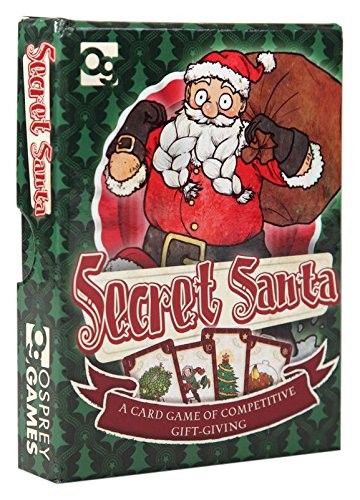 A festive card game of proving to friends and family that you're a better person than they are. Be the first to give away every gift you've got to win the round. Some gifts trump others but good presents are rare, and a big stack of stuff is always exciting. Mix things up with Santa's Elves and Christmas Carol, give away all of your Gold Rings, and try not to get stuck with the Fruitcake.
Slapshot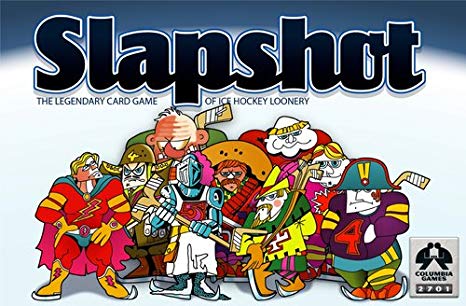 A wheeling, dealing game for hockey fans. Each player assumes the role of team manager. The object is to skillfully manage your team into the playoffs and then win the championship.
Sushi Go!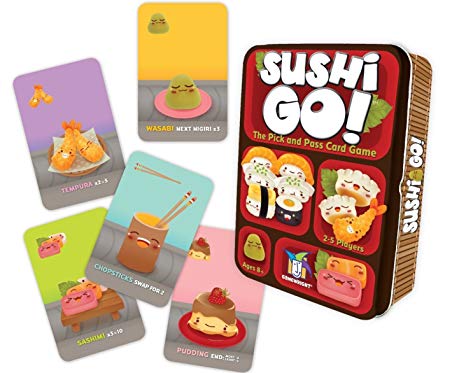 A 15 minute game for 2-5 players in which you try to snag the best dishes at a sushi restaurant. Pick the right combination of cards and block your opponents moves to win the game! Try not to get too hungry as you play this easy to play, draft and pass game!

Unstable Unicorns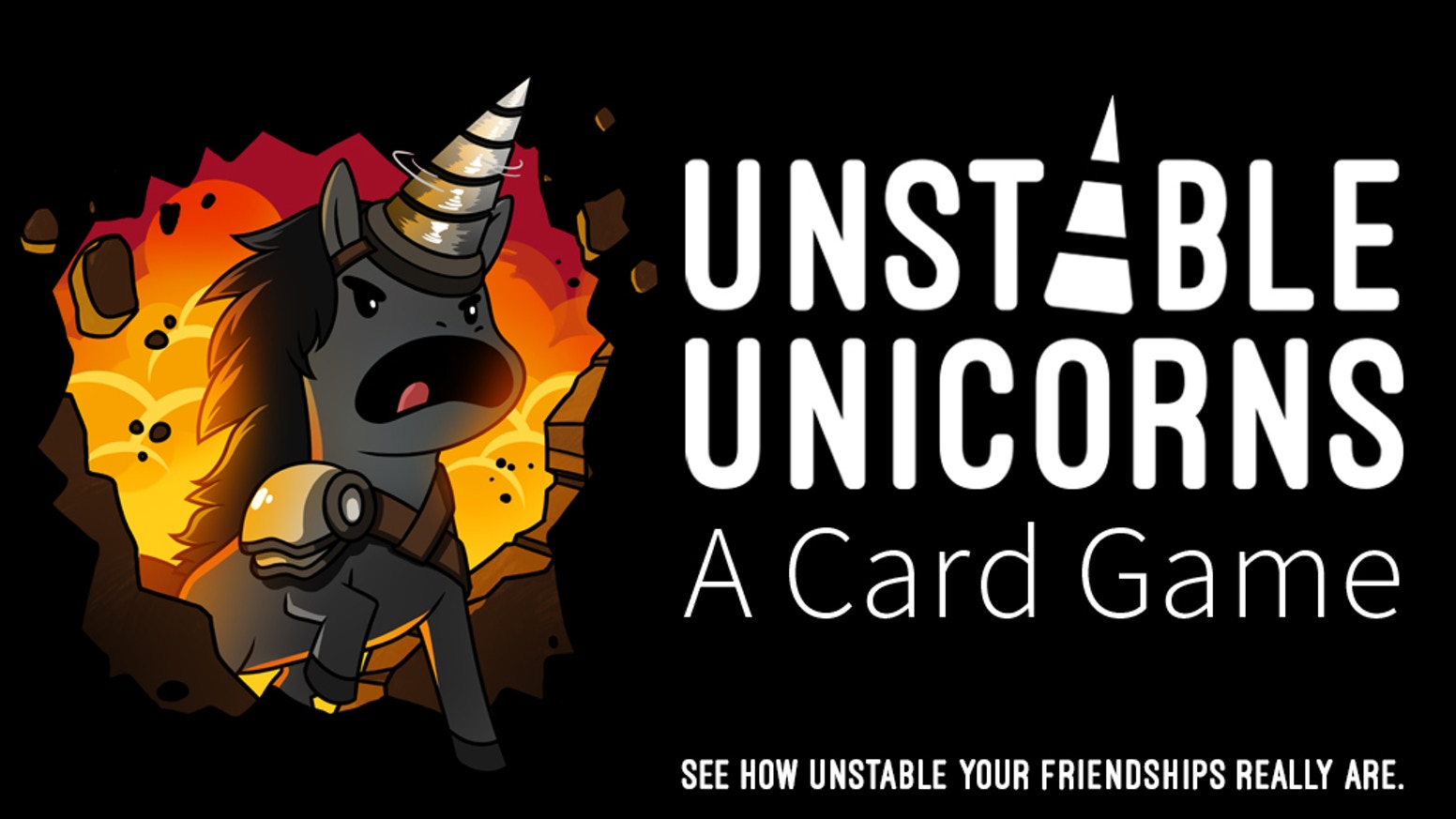 A strategic card game about everyone's two favorite things: Destruction and Unicorns. Designed by the creator of TeeTurtle, Unstable Unicorns features a combination of stellar artwork and carefully calibrated gameplay for an infuriatingly magical experience.
Welcome to the Dungeon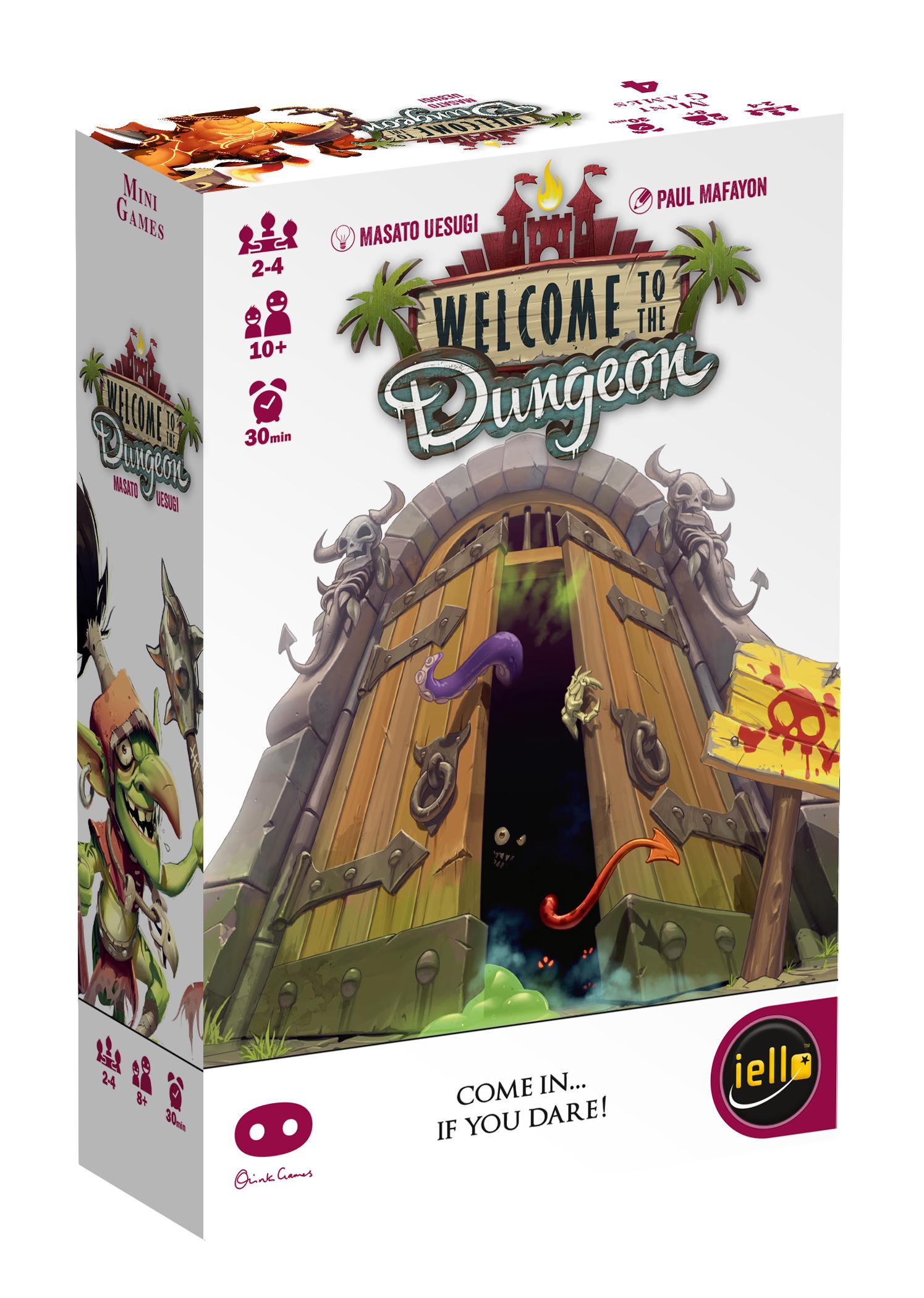 First released as Dungeon of Mandom — is a push-your-luck dungeon delve in which 2-4 players take turns essentially daring each other to go into a dungeon with less equipment than they start off with while filling the dungeon with monsters.
WizDice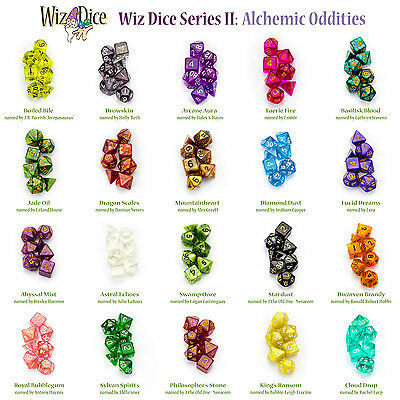 Need dice for Dungeons & Dragons, Pathfinder or another RPG?  We've got you covered!  In this pack, you'll find over 100 random polyhedrals in over a dozen dazzling and mystical colors, including everything from d4s to d20s.
Zombie Dice/Trophy Buck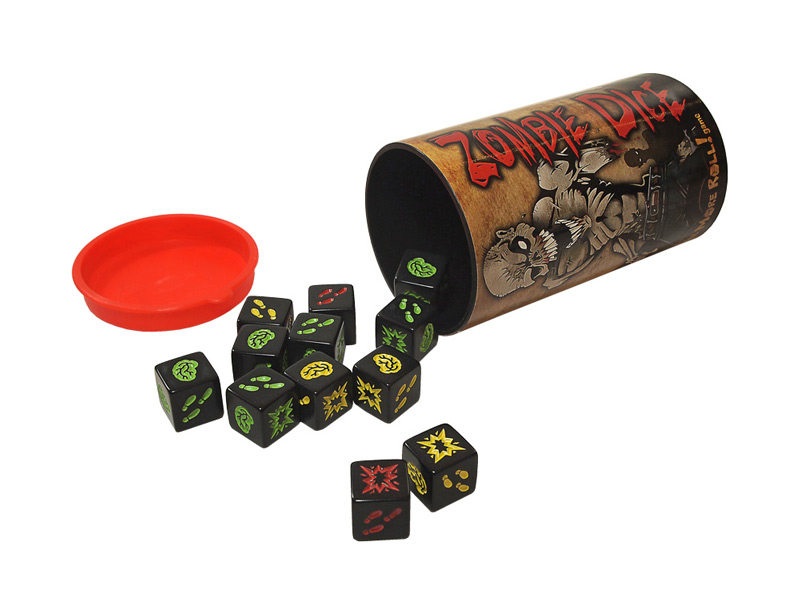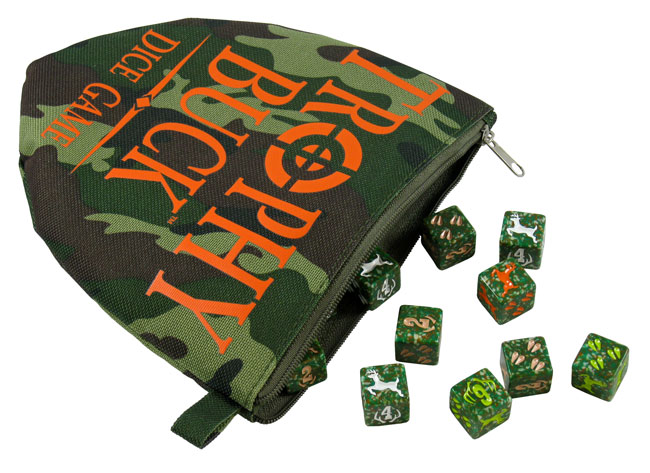 Zombie Dice is a quick game for any zombie fan (or the whole zombie family). The 13 custom dice are your victims. Push your luck to eat their brains, but stop before the shotgun blasts end your turn! Includes 13 custom dice and dice cup, to carry the game in.
Trophy Buck is a fast-moving game about deer hunting. ... Each game takes 10 to 20 minutes, and can be taught in a single round. It comes in a durable cammo bag – great to take on camping or hunting trips. Trophy Buck is based on the Zombie Dice mechanic – but with four dice colors and 12 dice, it's a brand new experience.
Tabletop Games section created by the 2018 Redhawk Tabletop Gaming Club XBox One Games
The Crew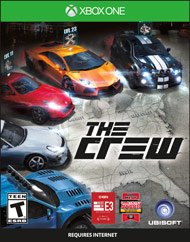 Jump in seamlessly and build your crew of four through bonding or intense rivalry.  The entire United States is your driving playground --all the roads coast-to-coast and everything in between.  An extensive tuning system combining depth and simplicity allows you customize your licensed cars according to your style and driving preferences.
Diablo: ROS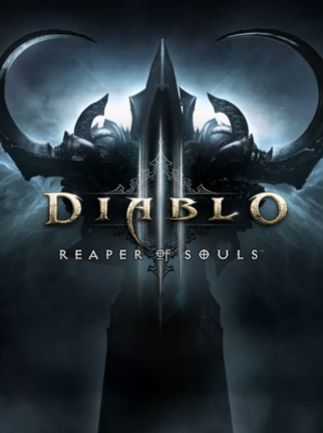 Become one of humanity's last defenders, face ultimate evil, and lay waste to the hordes!  Play as a crusader, barbarian, wizard, or three other character options and form a party of up to four heroes.  Rise as champions, and lift the siege, at last!
Dynasty Warriors 8: Empires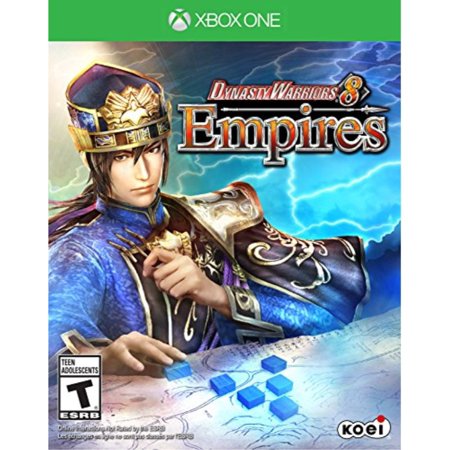 Play one of hundreds of characters, going from the ruler of a small plot of land to eventually conquering China!  Recruit officers to fight as generals, create buildings in each province you conquer, and keep the local peasants happy -- all in order to go down in history as a benevolent and virtuous monarch.
FIFA 14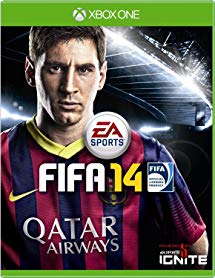 Get in the game as a professional soccer player with new enhancements such as Pure Shot, which gives players the ability to adjust their stride and approach, and Real Ball Physics, which enables them to strike the ball with more force and finesse.
Forza Motorsport 5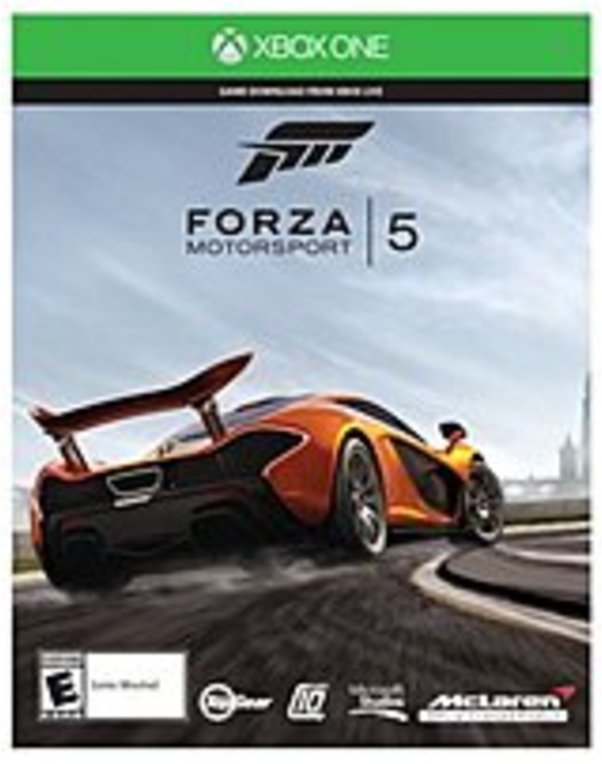 Experience your ultimate car fantasy.  Own and race the cars of your dreams.  A new graphics engine recreates thousands of materials at a level of precision never before possible.  See the play of light on a perfect coat of paint, the texture of handstitched leather and brushed metal, and the history written onto scratched rotors and worn concrete.  Enter a world of speed, beauty and danger real enough to touch
Grand Theft Auto 5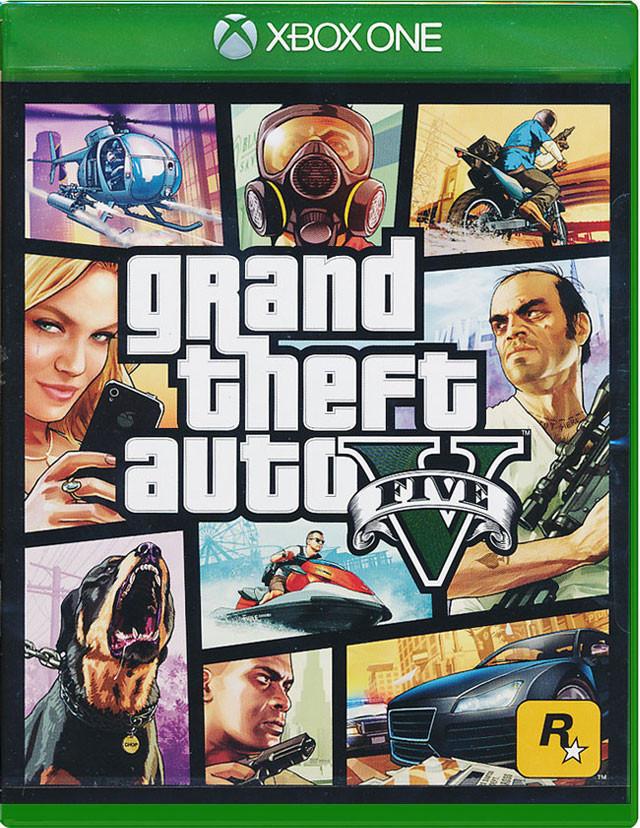 Sometimes, you don't feel like being a hero.  Play the bad guy in the biggest, most dynamic and diverse open world ever created -- now packed with layers of new detail!  Storytelling and gameplay are blended in new ways as players repeatedly jump in and out of the lives of three main characters, experiencing all sides of the game's interwoven story.
Guitar Hero Live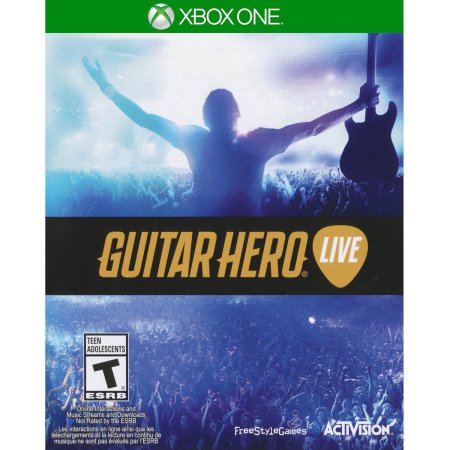 You are a rock star, and playing music in front of a real crowd is like no other experience. With the new GH Live first-person view, you'll take center stage like never before.  Feel the rush of performing in a band, in front of crowds who react in real time to your performance.  You'll take the stage in a variety of venues, from the intimacy of a small club to the main stage of a massive outdoor festival.
Just Dance 2015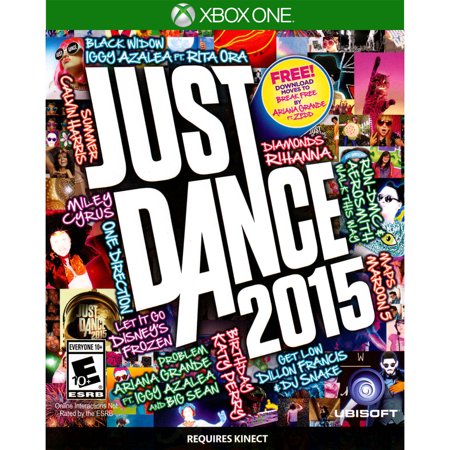 Play the world's #1 dance game, bringing your best moves to over 40 top tracks, featuring bestselling artists like Maroon 5, Jessie J, Ariana Grande, and Nicki Minaj, plus rock legends such as Aerosmith. With the Dance Challenge Mode feature, you never have to dance alone.  Compete against anyone - from friends and family to top ranked Just Dancers.
Mortal Kombat X: Limited Edition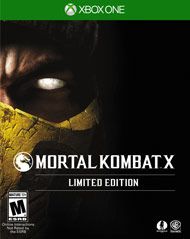 Players are offered three different versions of each character, all of which have their own fighting styles, special moves, abilities and strategies, including Scorpion, Sub-Zero, Raiden and Kano, as well as new characters such as Cassie Cage, Kotal Kahn, Ferra-Torr and D'Vorah.  A deep story mode continues 25 years after the events of 2011's Mortal Kombat, introducing Cassie Cage, daughter of fan favorites Sonya Blade and Johnny Cage.
NBA2K15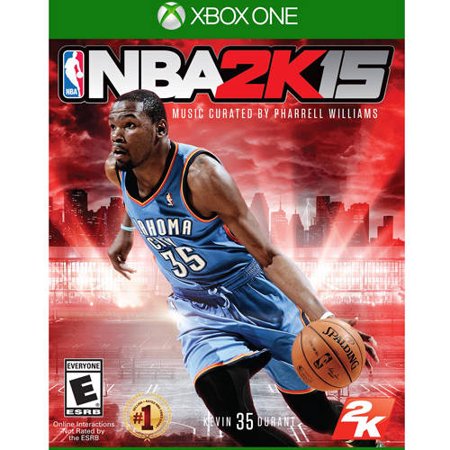 Jump into the action with a number of significant gameplay improvements, including 5,000 animations, all new defensive AI, shooting systems, and team-specific play sets.  There is also more control over rebounding, steals, and blocks, making players feel engaged in every basketball decision and action. Enjoy upgraded broadcast-style presentation by Ernie Johnson and Shaq, which delivers authentic commentary and analysis to the action.
Overwatch: Legendary Edition
Experience the extraordinary when you play as heroes, not classes.  Join the ranks of soldiers, scientists, adventurers and other oddities and fight for the future together ... the world is your battlefield!  This edition Includes 5 Epic and 5 Legendary skins, so you can customize the appearance of your favorite characters.
Red Dead Redemption II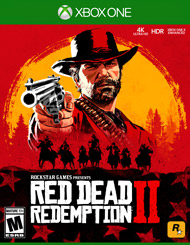 Immerse yourself in an epic tale of life in the Old West, as you do what you must to survive in America's unforgiving heartland. Wander through a vast and atmospheric world, as you contemplate whether loyalty to your past will trump your ever-growing uneasiness about other characters' actions.  Will you even be able to stay alive without them?
Stardew Valley: Collector's Edition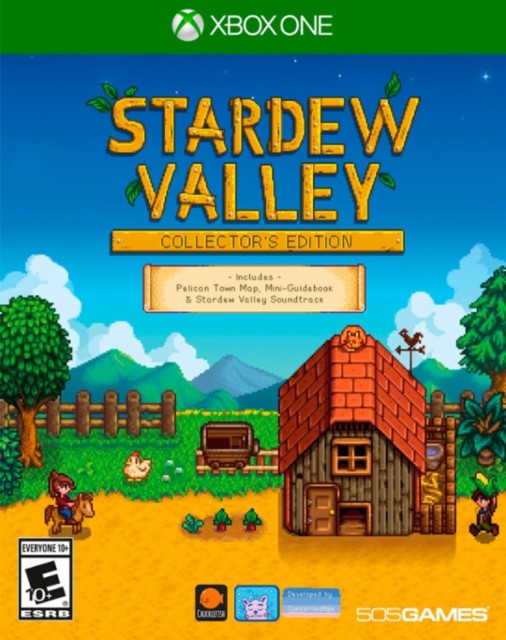 Turn an overgrown field into a lively farm by raising animals, growing crops, starting an orchard, crafting useful machines, and more!  As you make your way from a struggling greenhorn to a master farmer, you'll level up in different areas, including farming, mining, combat, fishing, and foraging.  You can also explore a vast, myserious cave filled with treasure and become part of the local community by interacting with over 30 unique characters.
UFC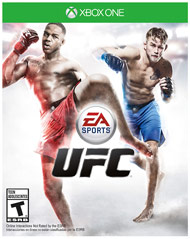 Participate in one of the most physically demanding sports on the planet, requiring mixed martial artists to give it their all with every movement.   A dynamic environment allows you to pull off jaw-dropping moves, including roundhouse kicks, superman punches and much more. One perfect strike could change the fight!
Don't have an XBox One?  No problem ... use your La Roche i.d. to check out the library's console, as well as a Kinect for motion sensing games and "guitars" for rocking out to music playing games.  See a member of the library staff for more details.